Christmas and New Year's represent great occasions for stepping up your makeup game makeup, and that doesn't necessarily have to mean hard or time-consuming. We have a few tips and tricks for you. You only need a few cosmetic products, and you can create charming makeup at home. We are choosing a few of our favorites for you.
Candy lips for softer kiss
Before you put the makeup on, we recommend peeling and softening the lips using lip balm. 
Candy contains ingredients that are regenerative, protective, and anti-inflammatory. As a bonus, its scent will take you back to your childhood.
Key ingredients  shea butter, vanilla macerated sunflower oil, calendula macerated sunflower oil, vitamin E.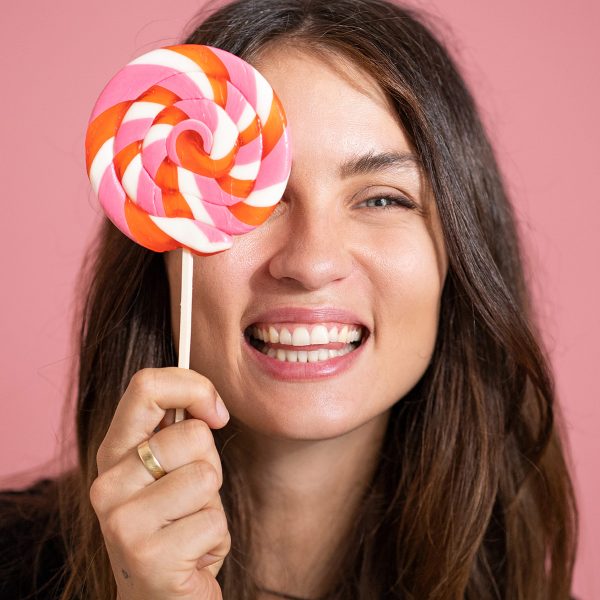 The next step is choosing and applying lipstick. Bold shades of red, fuchsia or purple go great with a festive outfit, but the choice is yours. In the following post, we prepared a few tips on how to choose the right lipstick. 
Tereza is among the top shades. If you prefer a softer, more natural shade, try Dominika. 
For the more daring of you, it could be the burgundy Tonbo, warm-red Nikola,or Ivica in distinctive fuchsiaOr how about cold vampire lips? Try Zuzanadi or Petra.
To pair well with bold lipstick shades, we recommend soft eye makeup. If you prefer soft lipstick shades Martina , pair them with bolder eye makeup with more distinct shading or eyeliner. 
This year, we introduced the beautiful, rich, yet natural lipstick Tereza, and it became your favorite because it flatters absolutely everyone.
Tereza is named after Tereza Vlasakova. 
"Tereza ,the shade is not "too much" to wear during the day, but it is perfect for an evening event at the same time. We went over six prototypes, and this shade was love at first sight for me! I love how soft the
Fraela lipsticks are, so even the bolder shades do not seem too "harsh," and so I was not afraid of the darker raspberry shade. I think it works great for me."
Since we introduced our new natural multi-sticks,they have become a part of your daily routine. You can do the entire makeup using only the multi-sticks for the lips, cheeks, and eyelids. If you use one multi-stick shade, you will match the makeup in a single tone. 
Highlighters sú úplný "must-have" slávnostného mejkapu.
Choose the color of your preference. Do you wear gold jewelry? The golden Effrons will complement it beautifully. If you prefer silver jewelry, pair it with the pink Opal, one of your favorites.
The white Luna is great for "winter seasonal types" or to bring out the details on your face, such as the inner corners of the eyes and the lines above the lip.